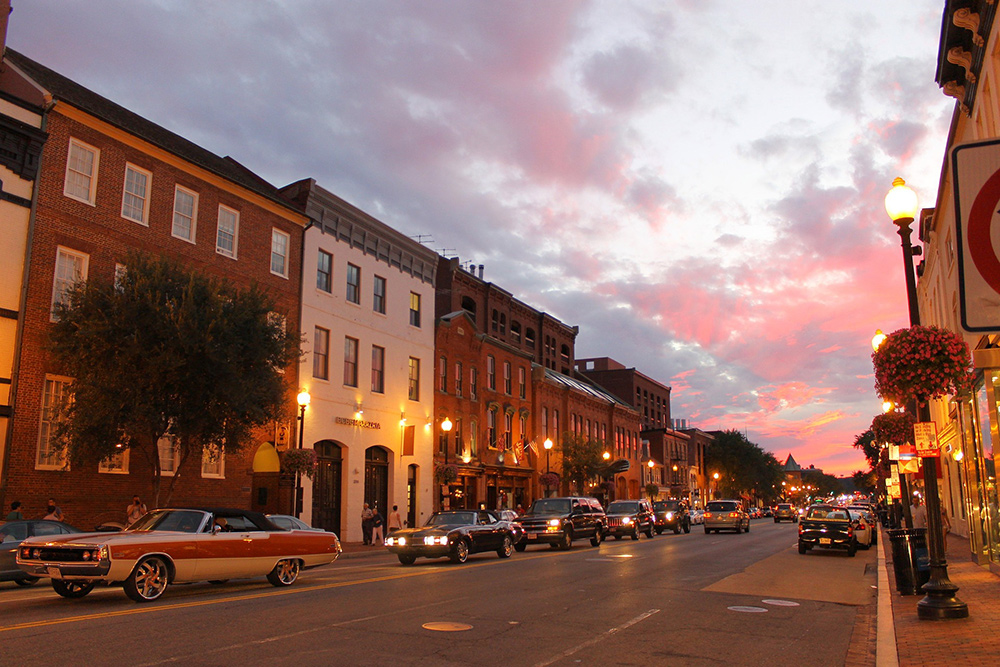 " What a wonderful idea!  It is like a "Fodor's" for real estate buyers. This book will be extremely helpful to both national and global buyers who move to our Capitol city with little knowledge about our rich history and varied opportunities for living in DC. I am thrilled to be a part of the launch issue for Washington, DC "
– Cynthia Howar
What to Know Before Buying a House in Georgetown
A Modern Area With a Deep History
Georgetown is one of the most historic areas of Washington, DC, having been established since 1751, when the Maryland Assembly authorized a town on the Potomac River on 60 acres of land belonging to the Beall and Gordon families. It is the oldest neighborhood in DC. It was named in honor of King George II and became a bustling shipping center, catering to the European and West Indian trade. By the end of the 18th century, it was the largest tobacco port in the country, soon housing a textile mill, flour mills and a paper factory. Its commerce and industry flourished even more when it was incorporated as a township in 1789 and in 1791, when Washington, DC was designated as the nation's capitol. It retained then and now still, has its own unique character.
The history of Georgetown first as a port and then as a commercial hub after the Civil War activated the development of Victorian and Federal townhouses and estates, many on cobblestone streets which only add to the charm of Historic Georgetown. Shipbuilders, land speculators and merchants built mansions in West Georgetown above the Harbor at Prospect and N Street. Their workers, many of them freed slaves who emigrated to DC after the Civil War, also lived in the center of Georgetown, which explains the much smaller homes in East Georgetown, along with several historic, African-American churches that today still have active congregations. Historic Georgetown runs south of R Street to the Waterfront, east to 26th Street as it approaches Dupont Circle, and west to 36th Street, ending at Georgetown University's campus. Also in the same zip code (20007), are two other areas west of Wisconsin Avenue that are considered part of Upper Georgetown: Burleith and Hillandale. Burlieth is comprised mostly of small attached townhomes built in the 1940s and Hillandale is a gated community of townhouses and detached homes on 42 acres of a former sheep farm.
Many of the homes in historic Georgetown were built prior to the automobile. Consequently, parking is not always available with some of the smaller townhomes. Many of the historic homes in Georgetown have conservation easements that restrict renovation and/or subject it to review and approval by the Georgetown Historical Society and the Washington, DC Fine Arts Commission.
Georgetown is a cohesive community with an active Citizens Association and Business Development District, where walking everywhere is part of its overall charm. Local business owners are vested in their community as well, and do much to support its beautification and a thriving, safe neighborhood. The intersection of Wisconsin Avenue and M Street is considered the heart of Georgetown's commercial district where one can find trendy shops, restaurants, old style taverns, ethnic food and European cafes.
Georgetown University is the dominant academic entity in Georgetown proper and is located west of Wisconsin Avenue. There are many private and public schools in Georgetown, which include parochial schools affiliated with Georgetown University and the Duke Ellington School of the Arts, our only performing arts high school. Additionally, there is the British School of Washington and the elementary school campus of Washington International School, both of which cater to the many diplomatic families that live in DC.
Lastly, there are many historic homes in Georgetown that are open to the public and are now museums. Among them are:  Dumbarton Oaks and its lush gardens in East Georgetown; Tudor Place, also in East Georgetown, built by the Architect of the Capitol, William Thornton; Dumbarton House (owned by the Colonial Dames of America). As is true in many other parts of Washington, verdant green parks can be found throughout Georgetown and vary in size and flavor.
The C&O Canal is a waterway commissioned by George Washington's Powtomack Company to allow downstream River traffic to avoid the rapids of the Potomac. Dotted with a series of locks, it is now owned and managed by the US Park Service and is a lovely feature of Central Georgetown. The Georgetown Waterfront at the bottom of Wisconsin Avenue, beneath the elevated Whitehurst Freeway, is an area well populated during the day and evening where restaurants, boats and a newly finished riverside park bring life to Georgetown all times of the year.
Why Buying Here is Unique
Living in Georgetown is a sought after proposition by many locals and transplants who have moved here for work and decided to stay in DC, touched by what the locals call "Potomac Fever." With historical ties and modern city life, there are unique aspects to buying in Georgetown, including:
Our real estate market is very active and has remained so even during the economic downturn in 2008. While the prices of homes in Georgetown fell to the more realistic values of our current market, we saw only a reduction of approximately 25% as opposed to the 45-50% average for other metropolitan areas. Prices in Georgetown are higher than in many parts of the city, ranging from $700,000 for a small 2 bedroom, 1 bathroom townhouse to upwards of $4M for a large townhome or detached house with parking in central Historic Georgetown. There are several estates in Georgetown and luxury apartments that have sold for more than $8 million dollars.
Lot sizes of most of the houses in Georgetown tend to be small with the exception of the few estates and detached homes sprinkled throughout Georgetown. Many of the townhomes have small, walled in gardens that exude charm, some larger than others. There are several apartment buildings in the heart of Georgetown occupying the sites of the Paper Mill, the historic Flour Mill and in repurposed warehouses found along the River. Older apartment buildings and schools and mansions converted into apartments complete the type of housing to be found in Georgetown and range in price from $300,000- $7,000,000.
Parking and garages raise the price of a townhouse or detached house by about $100,000 per space. There is street parking in much of Georgetown with a Zone 2 permit, although it is easier to find on some streets than others. There is no subway in Georgetown, but there are bus routes on several of the cross streets and on its main artery, Wisconsin Avenue. The DC Metro system also provides a "connector" bus that delivers its passengers to the subway stops at Dupont Circle and George Washington University. Many residents like to walk in Georgetown to the plentiful shops, restaurants and cafes.
Climate, Topography and Schools
The climate in Georgetown is temperate and can be hot and humid in mid-summer. The north part of Georgetown is on a hill that slopes south to the Potomac River. Many of the houses up here were considered summer homes in the 18th century, often characterized by front or side porches that took advantage of cross breezes.
There are several public and private schools in Georgetown. Hyde and Stoddard are the elementary schools and Hardy is the Middle School. In addition, there are two parochial schools affiliated with Georgetown University, Holy Trinity and Georgetown Visitation Preparatory School. The Duke Ellington School of the Arts, the District's only performing arts public high school, is located in Georgetown/Burlieth. Additionally, Georgetown/Burleith houses two international schools: The British School of Washington and the elementary school campus of Washington International School, both of which cater to the many diplomatic families that live in DC.
Our Buying Expertise
Washington Fine Properties (WFP) is the most successful real estate firm in Georgetown with a centrally located office at the corner of P and 27th Streets in addition to its Wesley Heights office.  WFP also serves the Virginia and Maryland markets with offices in both McLean and Middleburg, Virginia and Potomac, Maryland.  In Georgetown, the average sales price executed by WFP agents is $1,303,539, which is $409,537 more per sale than our closest competitor.  Between January, 2012 and April, 2013 in Georgetown, WFP sold 60% of the $1M+ market, 67% of the $2M+ market, 80% of the $3M market and 70% of the $4M+ market. Buying a home in Georgetown in a competitive market, which we have today due to low interest rates and low inventory, takes a thorough knowledge of comparable sales and values, the history and property condition of a particular home and a great deal of professionalism. Our real estate contracts in DC are 42 pages or more. In DC, realtors write the contracts for purchase rather than attorneys. Disclosures of representation, property condition and other conditions of purchase are handled by realtors. Settlements are conducted with Title Attorneys who actually produce the transfer documents, research and register titles, and work with the lenders involved (if not an all cash purchase).
We are a firm of 110 professional realtors, each of whom has been in business for an average of 15 years and who has had a minimum sales portfolio prior to affiliation with the firm. Therefore, as a purchaser with a Washington Fine Properties agent, buyers are going into the most expensive financial transaction of one's life (for most people) with an experienced realtor who has demonstrated ability in negotiating price and contingencies on behalf their clients. In competitive situations (where there are multiple offers registered on the same property), attention to detail and experience is paramount to a successful transaction. The same professionalism and unmatched integrity is given to purchasers of properties under $1 million as is given to purchasers of homes in the highest price brackets.
Washington Fine Properties is the dominant real estate firm in Georgetown. Washington Fine Properties has a large client base both of buyers and sellers: 83% of our purchasers over $1 million are local, 12% are national and 5% are international. In the last year, we listed 56 homes over $1M in Georgetown, almost three times the number of listings of our nearest competitor, giving us approximately 57% market share. Much of our success is due to our unique approach to real estate brokerage. In a world consisting entirely of independent contractors, our firm works collegially as a team, constantly networking together on behalf of our clients on a formal basis in weekly meetings and informally even more frequently. The result is that when you work with any WFP agent on either a purchase or a sale, you have the brain trust and experience of the entire firm. For example, 48% of our buyers come from our agent's personal networks within the price range over $1 million. As the price range increases, so does the percentage of personal sourcing. WFP has both listed and sold 17 out of 25 homes priced over $4 million in Georgetown in the last three years.
A Process for Buying Success
While 55% of our business across the DC metropolitan area is under $1 million, our firm has found the purchasers for the two most expensive historical properties in Georgetown: "Evermay," which sold for a record price of $22 million in 2011, and "Halcyon House" on Prospect Street for $11 million. Our process for working with buyers is the same for a purchaser in any price range. When we first meet with a prospective buyer to have a substantial conversation about a purchase, we execute a representation disclosure and agreement, which is important in our new world of buyer brokerage. Prior to the advent of buyer brokerage, all realtors were deemed to represent the seller of a home. Now, buyers can have their own advocates in the purchase of a home. We encourage all buyers to be prepared for the purchase of a house by having a lender pre-qualification letter and help them narrow down their search criteria through a discussion of their needs and desires. Once a house has been chosen, we prepare an offer and begin to negotiate the sales price and conditions with the listing agent based on a determination of price selected by the purchaser, the amount determined by market demand for the house, consideration of other competing offers, and condition of the property. When possible, we advise engaging a home inspector to do a pre-inspection, if time is of the essence. We also assist our clients in connecting with a local lender that can service a mortgage for the property if they do not already have one. This takes not only preparation and study, but a sound knowledge of the neighborhood market, in addition to, a good relationship with our clients, colleagues and other agents involved in the purchase.
Golden Rules of Buying
The golden rules for buying a property in Georgetown are true for every real estate purchase: location, property condition and availability of inventory from which to choose a home. Being successful is most dependent upon having sound buyer representation.
What to Know Before Selling a House in Georgetown
Pricing and Targeting the Buyer
Pricing a house correctly and targeting the correct buyer for a particular property are the two most important parts of listing a home, and are key parts of the marketing process for any WFP listing. Our marketing procedures start with a determination of the proper price for a home, a range of which is given to our clients after a tour of the property by the entire firm. We have found that the closer a property is priced to its market value (a computation based upon recent sales, property condition, size, location, etc), the faster it will sell. Gone are the days of pricing a property with "negotiating room" built into a price. The longer a home in Georgetown sits on the market at too high a price, the longer it will sit on the market, resulting in "chasing the market down."
Marketing a property in Georgetown is a specialty of WFP, which has a powerful advertising and marketing program. Our marketing plan for sellers involves the seller in each step of the process. WFP is the largest single real estate display advertiser in the capital region and showcases its properties collectively in print (Washington Post, The Georgetowner, Washington Life, DC Living, The Washingtonian, The Wall Street Journal, Architectural Digest, Country Life and Unique Homes among others) and extensively on the internet. We offer our sellers maximum web exposure locally, nationally and internationally.
Through our affiliation with Leading Real Estate Companies of the World, the largest real estate referral network in the world, we have a massive global presence. This is important because prospects often get the "first look" at a property online. Through our participation in all the prominent real estate web sites including our own WFP website (with more than 400,000 visitors annually), we provide purchasers immediate, virtual access to Georgetown properties.
What Sellers Need to Know
Selling a house in Georgetown involves several key factors that are evaluated by our professionals: location, realistic pricing, property condition, accessibility and an understanding of Market Conditions (inventory, comparable sales). Each factor impacts the rapidity of a sale and the ultimate price obtained for the property.
Location – Given most of Georgetown is included in a historic zoning overlay, sellers must be aware of the both the advantages and limitations of owning a historic property or home in a designated historic district. Many homes have conservation easements. This is less of an issue for condominium and cooperative sales. Many purchasers want to be in Georgetown precisely because of its historic nature and partake of its quaint village ambiance. The restrictions are primarily related to renovating or restoring Georgetown houses, which may require approval by the DC Fine Arts Commission or the Georgetown Historical Society. Most architects and contractors who work in Georgetown are very familiar with these issues. There are many enclaves in Georgetown that offer a variety of living options: East or West Georgetown, newer townhomes along Prospect Street; or the Cloisters, a gated community like Hillandale of Georgetown; or nearby Burleith. Each section of the greater community of Georgetown has distinctive comparable sales which impact marketing, but also offers a myriad of living options for potential buyers. The availability of on-site parking is yet another factor that adds to the value of a home in Georgetown. Alternatively, absence of on-site parking can cap its sales price.
Property Condition – Property condition is quite important for today's purchaser, so increasing numbers of properties are being "updated" (depending on the seller's budget) and "staged" before their launch in the open market on the Multiple Listing Service (MLS). Neutral décor, renovated kitchens and baths increase the value of an older home as much as the number of bedrooms and baths. Property condition directly impacts the selling price, so if a property cannot be updated, this should be a component of any pricing discussion.
Accessibility -A house has to be accessible to be sold. Making sure that there are adequate showing opportunities and a house is easy for a purchaser and their agent to see is critical to a successful sale. Exposure on the internet is mandatory. Today, the "first visit" by a purchaser is their visit to the property electronically, so the more photos that are available on the realty internet sites, the more interest a seller will generate on the property.
Price – Today, price is the holy grail of real estate. Buyers are more aware of price than ever in the past and in some cases, can be misinformed as to relative market value. The listing agent must be well versed in the Georgetown comparable sales to back up any price discussion. Sellers are well advised to price to today's market, which is robust at our current pricing levels, not those of the "boom" market before the housing crash in 2008.
Current Market Conditions – Real estate is local and impacted by basic economics, supply and demand. Therefore, inventory or lack of inventory is an important consideration for a seller. Listing realtors must know well the current inventory, comparable sales and new competition in the same price range for any given property.
A Common Buyer Question
Part of the professionalism of our WFP agents is that we are full time realtors with current and comprehensive knowledge of the Georgetown sales market. Most frequently, our clients ask us what they should do to get their home ready to sell. Our traditional response is: de-clutter your home, remove all personal identifiers like pictures of family, highly individualized décor and when possible, renovate your kitchen and bathrooms before you decide to sell. This way, you can enjoy these improvements and still be ready to sell in the near future. Once you decide to sell your home, it is a hard thing to remember that it is no longer your home, but the home of your buyer. Providing that buyer a neutral "palette" for them to imagine their things in the house eases the decision making for them. Keeping that in mind makes the preparation process of selling much less painful and personal.
Golden Rules of Selling
In summation, the golden rules of selling in Georgetown are:
Price close to market value, not "your perceived market value"
Prepare ahead of time to de-clutter your home and present it to the greatest range of purchasers through neutral décor and updated kitchens and baths
Choose the right agent with the best understanding of the local market and who is with the firm that provides you the greatest access to purchasers